About Russian Music Ensemble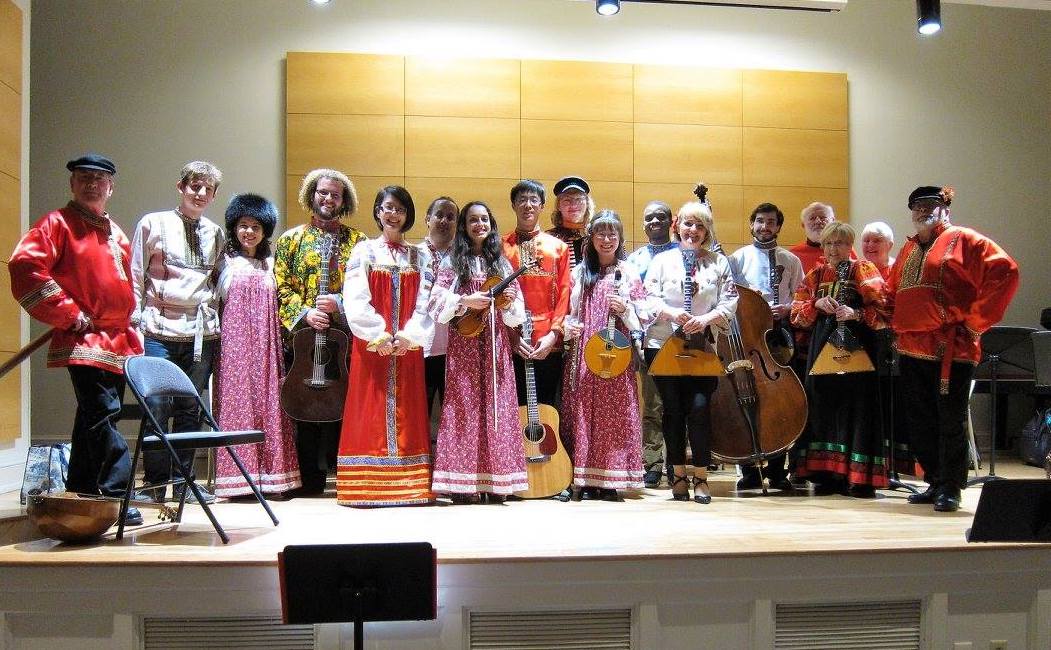 Founded in 2014, the William& Mary Russian Music Ensemble is the latest to emerge out of the College's diverse array of musical groups. What began as a labor of love for ethnomusicologist Jonathan Johnston (M.A.) and founding member Robert LaRose '16 has since evolved into a one-credit course that students across all disciplines can take to learn about the cultural history of Eastern Europe and become acquainted with instruments they may have never seen before. As the group continues to evolve, we look forward to expanding our diverse repertoire includes Russian, Ukrainian, Serbo-Croatian, Polish, Bulgarian, and Jewish songs.
The Ensemble has already collaborated with prestigious musicians and organizations, from the Washington Balalaika Society to the Balalaika and Domra Association of America, whose annual convention members will attend this summer. At its last concert, the Ensemble collaborated with Ukrainian balalaika virtuoso Tetiana Khomenko during her very first tour of the United States, and in December 2017 it will have the pleasure of performing with domra virtuouso Angelina Galashenkova and classical guitarist, Dr. John Huston. In addition, the Ensemble has performed at local venues and events, such as the 2017 William& Mary Global Film Festival, during which it helped present Chad Gracia's Ukrainian documentary The Russian Wodpecker, the Williamsburg Public Library Theatre, and the Foreign Language Association of Virginia (FLAVA) convention at the Williamsburg Hilton Double Tree Hotel. The Ensemble prides itself on educating audiences of all ages about the rich and varied culture of Eastern Europe. In February, members performed at the Maggie L. Walker Governor's School to encourage students to pursue Slavic studies in their undergraduate careers.